(TITC) – On 25 December, Mr. Michael Tonge from the UK, the ten-millionth international tourist to Viet Nam in 2016, arrived at Phu Quoc International Airport, in Kien Giang Province.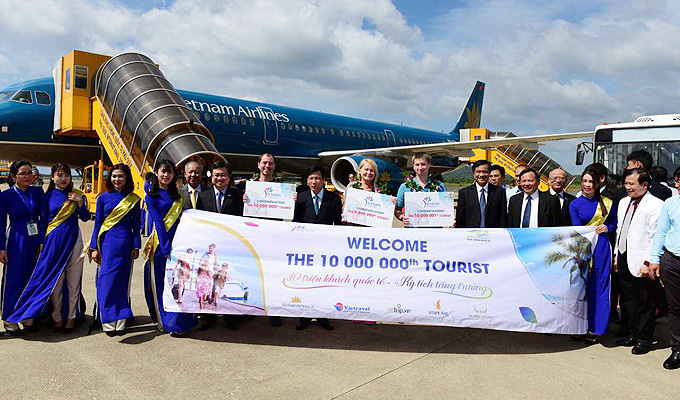 This is the first time Viet Nam has recorded 10 million international tourist arrivals in a year, some 2 million arrivals higher than the number of 2015.
In his speech, Mr. Nguyen Ngoc Thien – Minister of Culture, Sports and Tourism emphasized that European tourists to Viet Nam in 2016 grew 20% over last year, being crucial to the significant growth of Viet Nam tourism this year. Welcoming the special tourist to Viet Nam, the minister affirmed that Viet Nam always facilitate international travel to Viet Nam and has been trying to improve the quality of tourism services, ensure food safety and hygiene, provide a safe and secure environment for visitors. He also informed that from 1 February 2017, Viet Nam will pilot e-visa for foreigners to the country. The policy is expected to lure more international tourists to Viet Nam.
Being impressed by the warm welcome of the Vietnamese hosts, Mr. Michael Tonge said Viet Nam with breathtaking natural landscape and fascinating beaches, hospitable people, unique culture and delicious gastronomy is absolutely an attractive destination for British and European people. He will tell this unforgettable experience to his relatives and friends and encourage them to visit Viet Nam.
Source by Great Indochina Travel